Quality Inflatables Details
KUOYE Inflatables is always proud of its creative original designs that are filled with imagination. We are not only known for our original designs, but also our strict quality standards and customer services. We are constantly improving our techniques of manufacturing to make sure our customers receive the best quality inflatables.
Material is very important for inflatables. All our quality inflatables are made from high durability flame-retardant, lead-free Commercial Grade 18oz Vinyl (0.55mm PVC tarpaulin), which has 3 layers, two PVC coated sides with a strong net fabric inside. The material has passed EN71, RoHS tests. By using Automatic cutting machine, we can accurately cut and prepare the material for a near perfect assembly.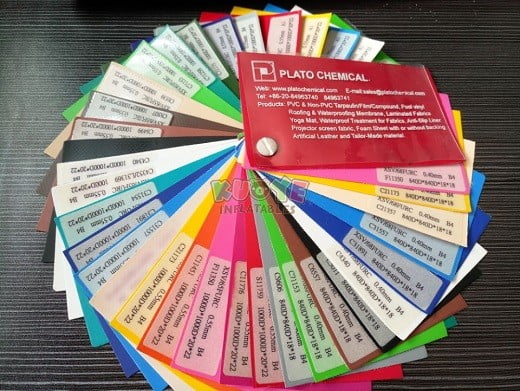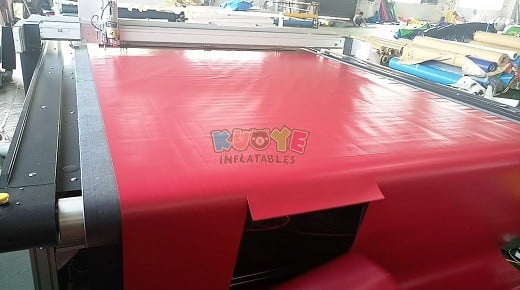 At KUOYE Inflatables, we use strong inner baffle material that is minimum 840D and 1000D. This provides the maximum strength for the internal construction of every inflatable we manufacture. Considering baffles are the skeleton of your inflatable helping it hold shape, the stronger the baffle equals to the tougher the inflatable seams will be, ensuring a long lasting inflatable.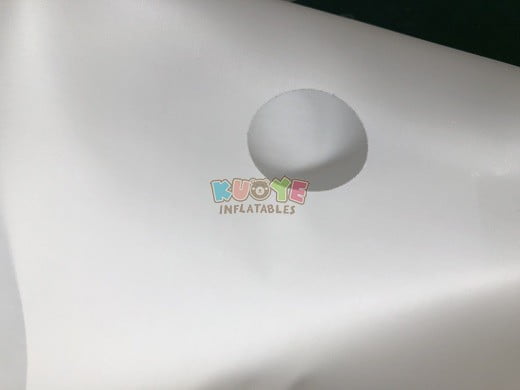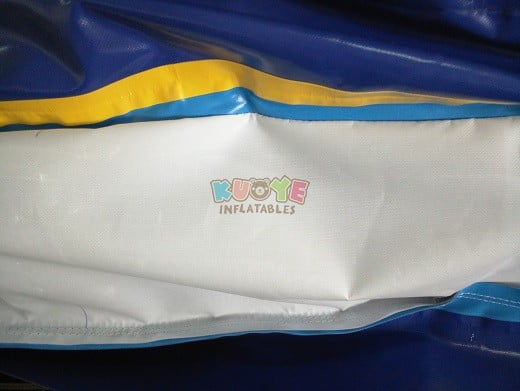 We use heavy duty nylon thread to make double stitching everywhere, with quadruple stitching at bottom stress points; double stitching inside and double stitching outside, which makes sure the inflatable is strong enough for playing on. Per inch we do about 5 stitches, so that the air does not escape too much out of the inflatable through seams requiring additional blower power to maintain air pressure and proper firmness of the inflatable, nor does it over-pressurize the inflatable impacting its life-span potential.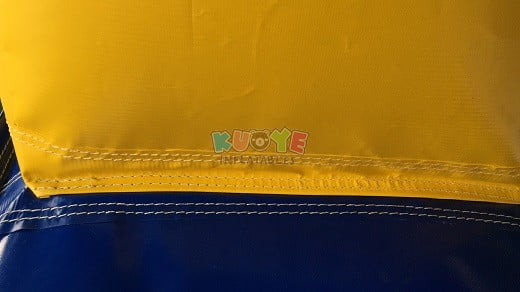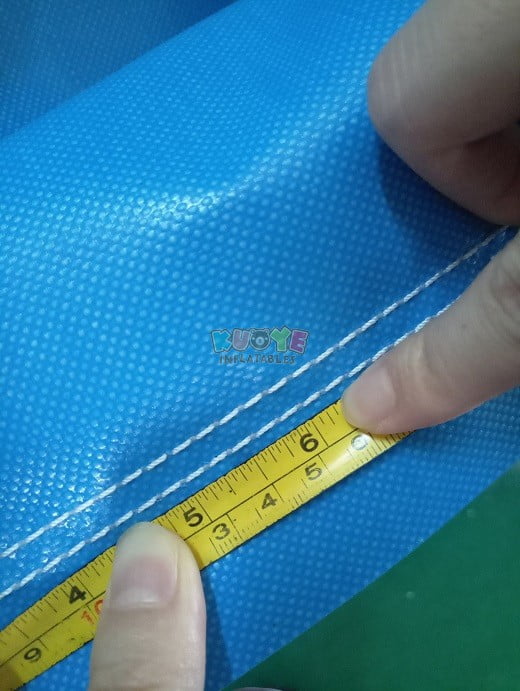 At KUOYE Inflatables, we use finger-safe mesh for construction on all windows and basketball hoops. The mesh is still transparent enough to allow for easy supervision of children.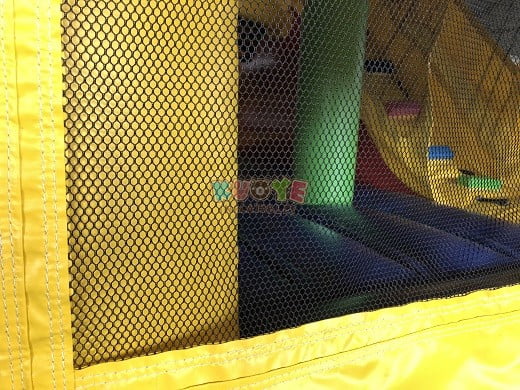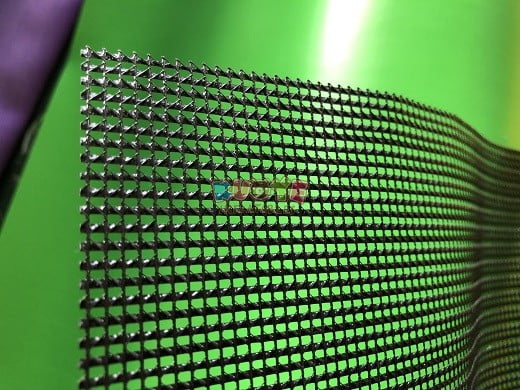 The Entrance of bounce houses and combo units can be open, self-closing by hook-and-loop, buckles or zipper, with reinforced strips. Step pad is reinforced with wind screen inside to ensure the safety of riders while entering and exiting.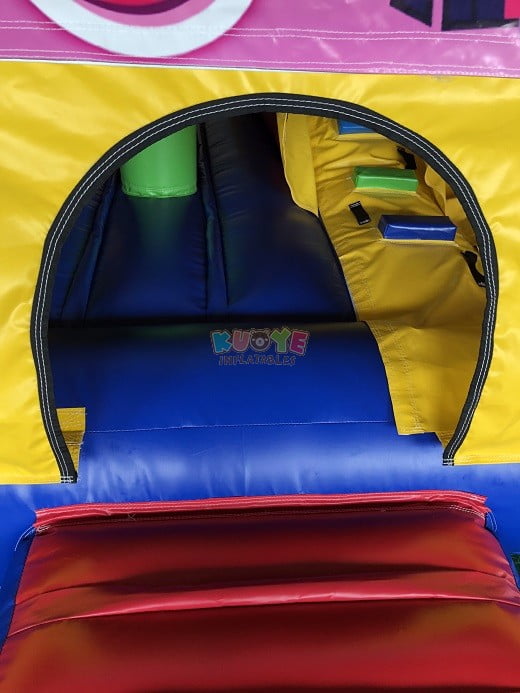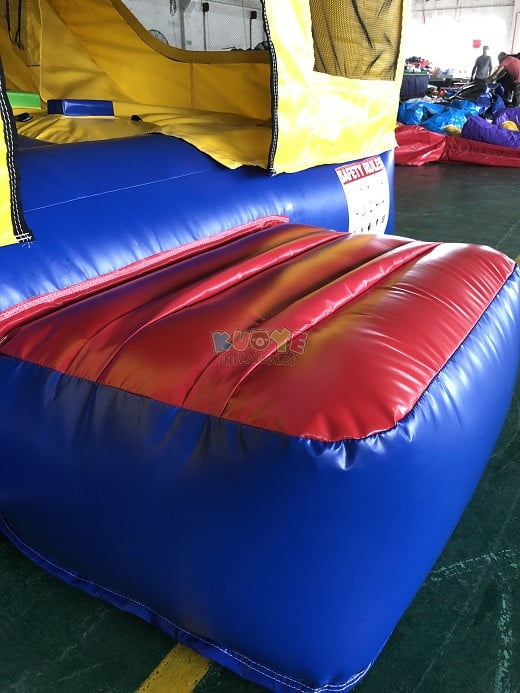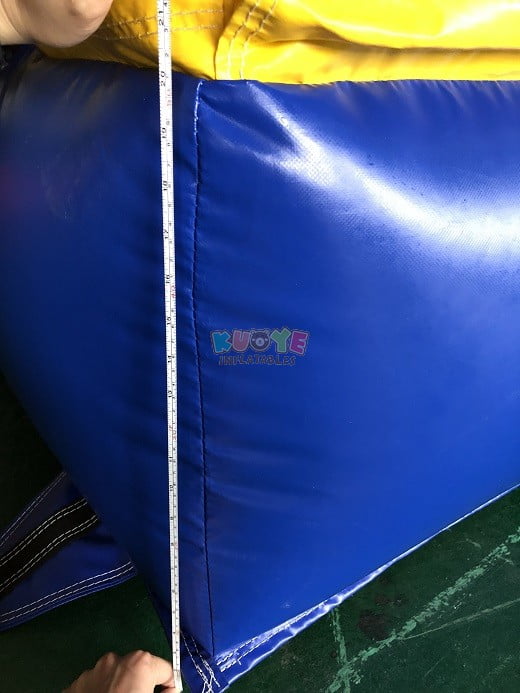 All inflatables have high stress point areas. These points may be entry areas, bounce surfaces and uprights joints, or wherever structure panels meet. High quality inflatables will have strong reinforcements in these high stress point areas, that will ensure the unit stays together and lasts longer.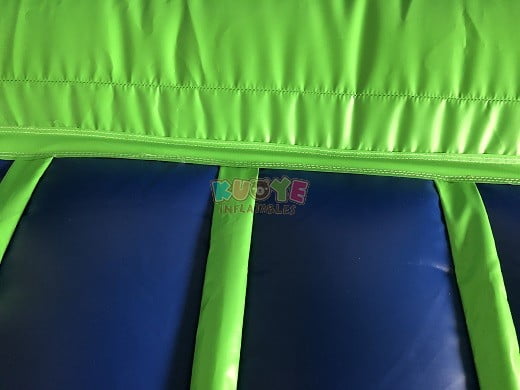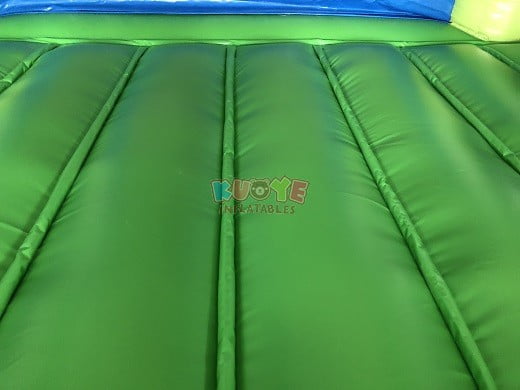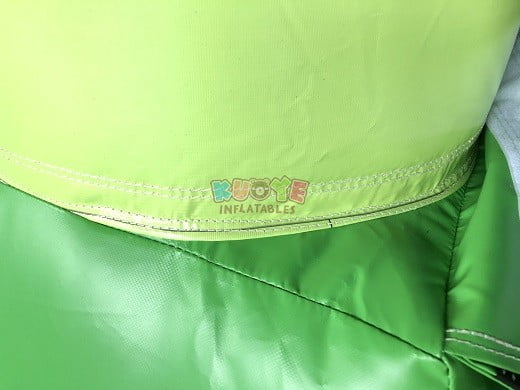 For high-volume traffic areas of an inflatable, like sliding and climbing areas, we use extra removable wear covers that can save you time and money by replacing a worn-out one with a new one. The climbing area has safety handrails and foam steps allowing each rider to ascend to the sliding areas with ease. The slide surface features a removable wear cover with a built-in slippery coating. Slides are hooded with a protective net to prevent jumping from the top of the platform and to ensure safe and proper enjoyment of the slide.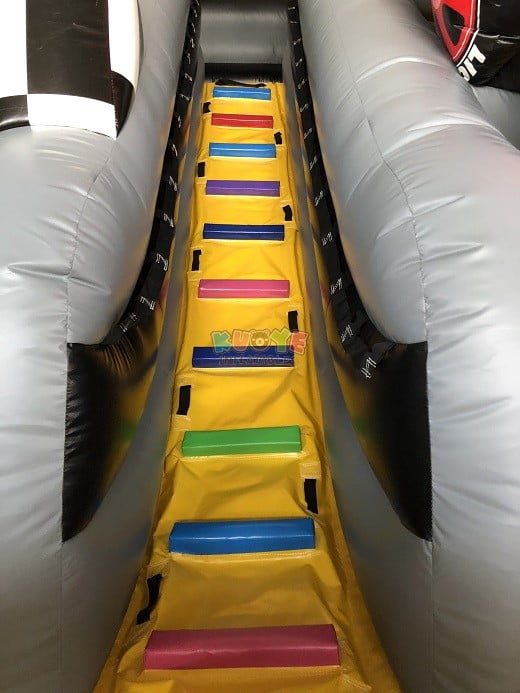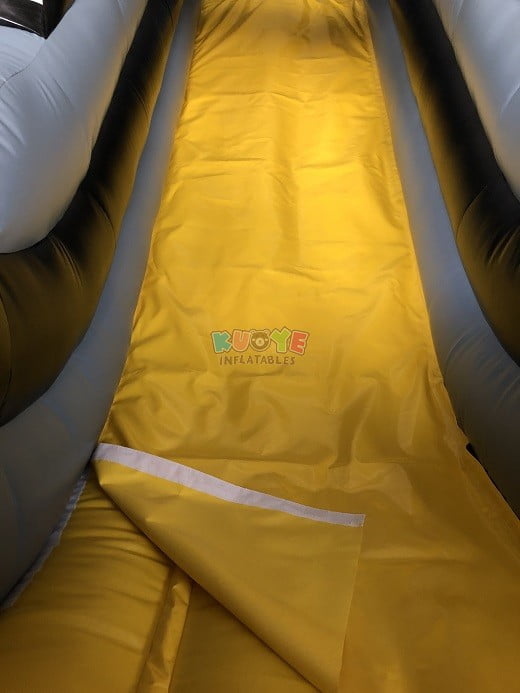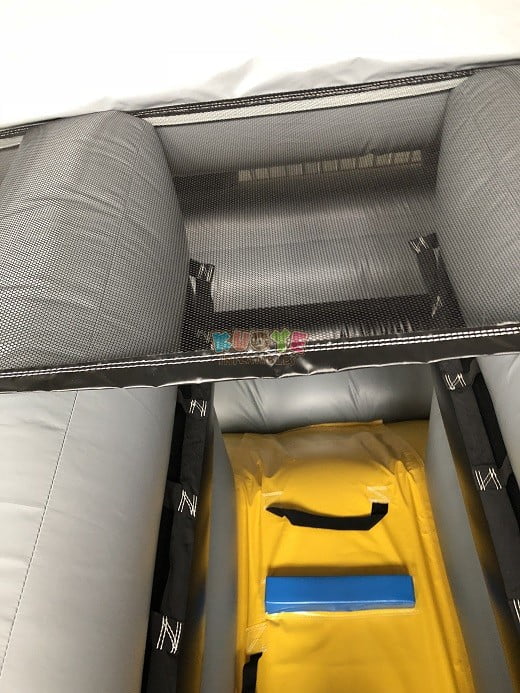 KUOYE Inflatables units come with a second blower tube (except for smaller-sized inflatables). As inflatables get older they tend to lose more air between the seams, compared to when they were new. This second inflation tube is future-proof.
All of our quality inflatables have air flaps that prevent air from blowing out of the unit in the event of blower failure, keeping the unit inflated long enough to allow riders to exit safely from the inflatable. For normal deflation, our units come standard with a minimum of 1 heavy duty YKK deflation zipper, covered with hook-and-loop sealed flaps for extra protection.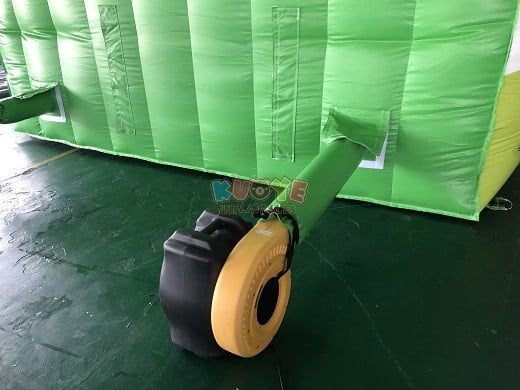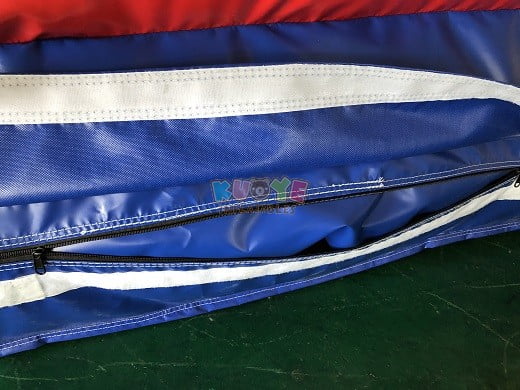 All KUOYE Inflatables units are equipped with 304 stainless steel D Rings as the anchor points, which are keys to keeping the unit stable in up to a 20 mph winds.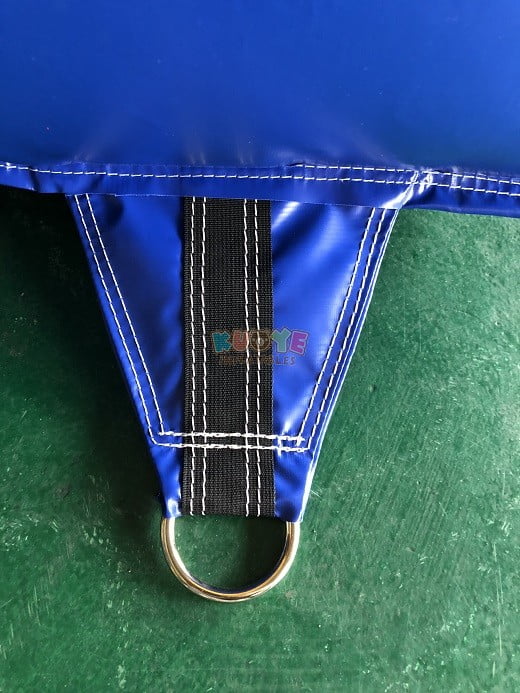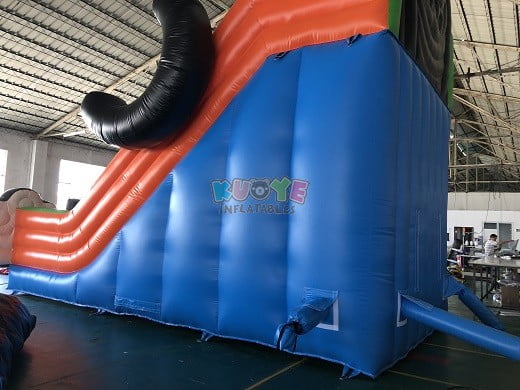 Quality inflatables mean quality printing too. We mainly have digital printing and hand painting to create vivid artwork. Our printing ink all comply with the SGS testing, printing industry standard. Moreover, we make a liquid protecting film on the surface of digital printing, which makes the printing non-sticky, and sustains a long time without color fading.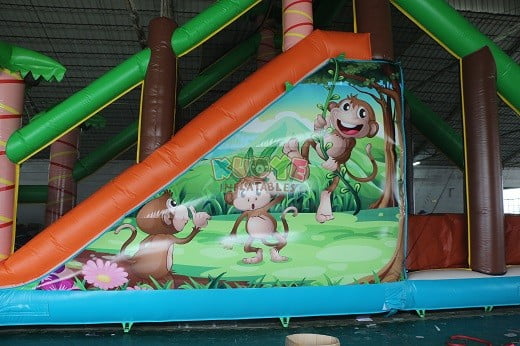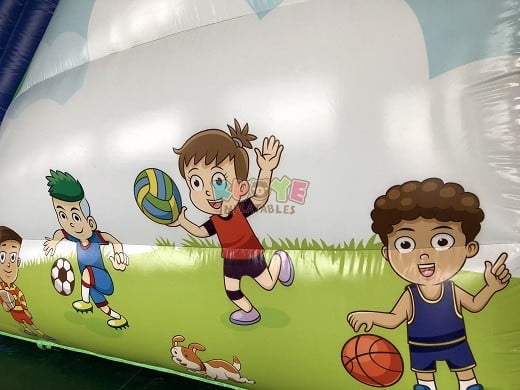 Safety signs ensure that all riders are aware of the safety and operation rules. These signs protect you and your customers. Your own rules in your language is available.